One thing that I learned working as a #JackGirl in the Reno Rodeo this year, is that women LOVE to hate on other women… And the huge resounding question in my head goes like this: WHY?!?!?!?!?!?!?
I just spent the weekend in Ft. Lauderdale for one of my best friends
 bachelorette parties, and there was another bachelorette party out the night we were out too. Woohoo! More chicks – girl power!!!! False.
This other lady wanted nothing to do with us, my girl was stealing her thunder and she was not about sharing her night…
Why do we as women feel the need to constantly put each other down? We have men that do that!!! Why can't we build each other UP?! We don't need to put someone else down to make ourselves feel better. However, we consistently do exactly that.
We don't need to put a certain body type down, to build another up. However, we constantly say someone is "too thick" or "too thin", thereby comparing them instantaneously.
We don't need to make each other feel like s*** #ForRealThough … However, we do on a daily basis.

Throughout the entire rodeo we had different girls (or women) who wanted nothing more than to trash talk and hate on us.
For looking the way we did, for dancing on the bar, for their boyfriend staring a little too long… whatever the reason – it's like these girls fed  off of putting other women down. They needed to say cruel things because it made them feel better about themselves (WTH!). Why do we feel the need to do that to each other? What kind of world do we live in that dissing on other people builds up someone's own self confidence? I genuinely don't understand…
Life would be so much better if we treated each other like the drunk girls in the bathroom – ALL THE TIME, even when/if we aren't drunk.
"Oh my God I LOVE your shoes!"

"Is your hair naturally curly? It's beautiful!!"
"Where did you get that dress?! I need it in my life."
"Your ass looks great in those jeans."
"You have BOMB legs sister."
"Your makeup looks AHMAZING!!"
You all know the girls I'm talking about – the girls that make your night THAT much better and put a smile on your face.
Now, as many nasty girls as we faced during the week and a half of Rodeo,
we had the lovey dovey ones as well.
The ones that said things like I mentioned above or would just walk up to you and say, "You are BEAUTIFUL!" – YAAASSSSSSSSSS girls like that rock, and they made my night on more than one occasion when I was sick of dealing with their bitchy counterparts.
That's what it comes down to… Ladies, why do we need to be bitchy to each other? Why can't we all be like the drunk girls in the bathroom on a daily basis? – minus the whole being drunk every day part of course…
The world would be SUCH a better place if we tried to sincerely compliment each other instead of constantly ripping each other apart. And it's not hard to look for the good. We just have to start retraining our
a bit…
It isn't always easy to be nice, especially when you're not "feelin it". But, one kind phrase can make someone's day (or night)… while one rude comment, snide remark, or judging look can ruin it.
So ladies, lets make a pledge to one another. An oath to do better, an oath to do no harm, an oath to look out for each other. We are STRONG (like bull), and it is about time we start acting like it, and treating each other like it.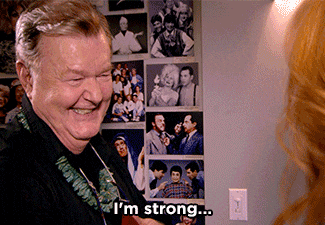 Let's get REAL about why we find it necessary to bag on each other.
Let's get uncomfortable, and start dishing each other compliments instead of dishing out the hate.
PLEASE AND THANK YOU.
Comments, thoughts, questions, concerns? Love it? Hate it?! Say what ya wanna say below or shoot me an email ❤